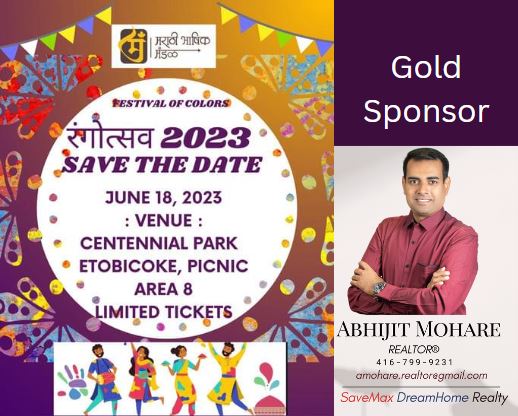 रंगोत्सव is BACK!!!
Join us for Celebrating the Colors of Summer!!
Venue: Centennial Park, Picnic Area 8 – Etobicoke
Date: June 18th 2023
Time: 11am to 4 pm
Ticket Link: https://www.tugoz.com/events/mbm/rangotsav2023
Ticket Price:
MBM 2023 Member: $10
Buy your 2023 membership here: https://www.mbmtoronto.com/memberships/
Non-Member: $15
Children Age 5 and under: Free (but RSVP required)
Early Bird Group Discount: Community Members can avail 10% discount until 20th May, 2023 if they do a group booking of 5+ tickets in a single transaction (discount applied directly at the checkout)
Holi celebration will include playing with colors, fun games and much more.
Ticket cost includes food and colors.
Limited Tickets only.
Please contact for more information:
Email: treasurer@mbmtoronto.com
Rushikesh Ranade: +1 (289) 823-0781
-MBM Toronto